(If printing catalogue, select auto portrait)
Honey is a challenge with our new stoneware clay.
So far, we are not able to fire the honey glaze onto this new clay.  We are working on new formulas, but for now all we have available is the previous earthenware clay.
We will update this page when we get a honey glaze formula that fires superbly.
Click the link to view our full catalogue http://www.lesoukceramique.com/our-e-catalogue-pdf/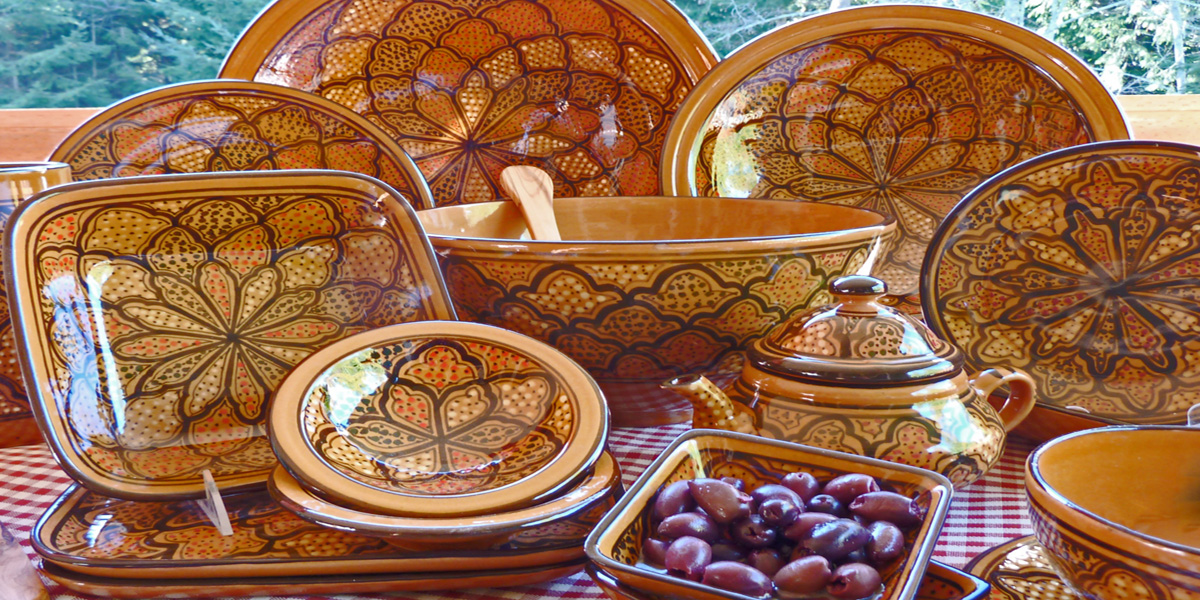 Honey is our flagship pattern. It's the only pattern we have continued to paint since the start of Le Souk Ceramique in 1997 and it shows no sign of losing it's popularity. The rich semi-transparent Honey glaze covers accents of green, red and yellow set inside the black outlines and black edgework. Set atop black linens or a dark wood table, Honey really makes for a stunning place-setting.
Honey is our only design these days for which we use a semi-transparent glaze, and it is the only design that we use red clay for anymore. We hand-paint the artwork directly on a red clay bisque starting with the black honeycomb outline work. Then we add the colors in each section and finish the piece by hand-dunking it into a basin of our Honey glaze. The semi-transparent amber color covers the artwork and red clay to create the final affect. So what appears as our yellow dots is actually white paint that is covered by the honey color, thus making them look yellow. We need to use red clay for Honey because our new white clay simply does not show the deep, rich Honey color the way we'd like. We tried to re-create an amber glaze for use with white clay but it proved impossible to replicate correctly. One other complicating aspect with our Honey design is that our semi-transparent glaze shows the variations of the original bisque color. The red clay bisques can range from light pink to almost brick red and this greatly affects the final shade of the finished piece. We try to minimize this range but some differences will always be intrinsic to Honey.